| | | |
| --- | --- | --- |
| " | In summary: Vote Loki 2016. | " |
|   | — Loki (Comic 998) |   |
Loki
Biographical information
Hometown
First Comic
Last Comic
Physical description
Species

God

Gender

Male

Hair color

Ginger

Chronological and political information
Affiliation

Asgardian Pantheon
Church of Loki

Class
Alignment
Known masters
Status

Immortal
Loki is the God of Fire[1][2] and Mischief[1] of the Asgardian Pantheon and the nemesis of his brother, Thor. He is the son of Odin and the father of Hel. He is depicted as being less pretentious than Thor.[3]
Despite being the God of Mischief, Loki is depicted as having a much more serious personality than Thor, playing the straight man to Thor's frat boy buffoonery, as shown when the Gods are trapping the Snarl.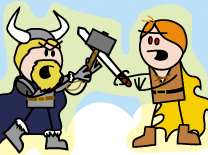 He is the patron of Hilgya Firehelm, formerly of the Linear Guild, of the unnamed human cleric in Greysky City who removed the Greater Mark of Justice from Belkar and his own High Priest.
During the Godsmoot, Loki was the first to speak against preemptively destroying the Earth, opposing Heimdall's advice.[4]
Loki is responsible for Hel's decreased power in World 2.0. During its formation, he convinced Hel to trade her ability to have living clerics for the right to all dwarven souls who died dishonorably. Hel did not count on Thor telling the dwarves about this and their subsequent development of an honor culture which prevents most of them from belonging to Hel after death.[5]
References
Edit
↑ 1.0 1.1 Comic #52, "Young Dwarves in Love"
↑ Comic #954, "Contractual Riders on the Storm"
↑ Comic #79, "The Heavens Moved"
↑ Comic #998, "Three Sides to Every Story"
Appearances
79, 273, 275, 501, 998, 999, 1000, 1001, 1002, 1006, 1012, 1016, 1083