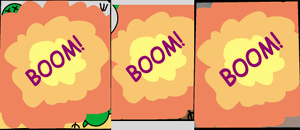 Explosive runes is a spell which the Wizard Vaarsuvius frequently uses to get revenge on people who annoy them, or get too close (Belkar kissed V in 316). It is therefore most frequently used on Belkar Bitterleaf. Vaarsuvius usually uses the spell by writing "I prepared Explosive Runes this morning," or simply "Explosive Runes" in a place where the intended victim is likely to read it. Sometimes they will give the spell to the victim, but they often use a more subtle approach.
List of victims
Edit
A group of unnamed Goblin Henchmen
A stable-gnome
Belkar Bitterleaf (who has suffered on no fewer than 15 occasions)
Xykon
List of appearences
Edit
Ad blocker interference detected!
Wikia is a free-to-use site that makes money from advertising. We have a modified experience for viewers using ad blockers

Wikia is not accessible if you've made further modifications. Remove the custom ad blocker rule(s) and the page will load as expected.