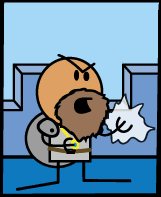 The Cleric is a magical class that depends on God-given abilities, and are usually a party's primary healer. They are the only core class capable of raising the dead.
Characters in Order of the Stick with levels in Cleric Edit
Deceased Clerics
Edit
References
Edit
↑ Unclear whether he is high priest of all the Twelve Gods, or if just one, which one. Nevertheless he declared this title for himself in Comic #456, "Saved Game"