| | | |
| --- | --- | --- |
| | Looks like I picked the wrong week to quit sniffing pixie dust. | |
Chief
Biographical information
Hometown
First Comic
Last Comic
Physical description
Species
Gender

Male

Hair color

Brown

Chronological and political information
Affiliation
Class
Alignment

Lawful Neutral[1]

Known apprentices
Status

Deceased

D&D Stats
Level

6[2]
The Cliffport Chief of Police was a cigar-smoking 6th-level Warrior who was the head of the Cliffport Police Department, having served for 32 years.
Biography
Edit
War and XPsEdit
Cliffport Murders Investigation
Edit
As the Chief of the CliffPort Police Department, the Chief led the investigation into the over 400 gruesome murders committed by Nale and Thog. He lamented that he was stuck with such inept underlings throughout the investigation. The locations of the murders pointed to a specific abandoned warehouse and the Chief led his forces to investigate it immediately.
Assault on the Warehouse
Edit
The Chief and the CPPD arrived on the scene to find a number of battles already raging between the Order of the Stick and the Linear Guild. Upon Roy's advice, the Chief reluctantly set up a perimeter around the area to keep the townspeople away. He realized that the involvement of him or any of this low level NPC class underlings in the fighting would only result in unnecessary deaths.
When Pompey's summoned insects attacked, he ordered in the Swat Team to deal with them. As the fighting wound down, he ordered the Rookie (actually his most competent underling) to interrogate the Order of the Stick more thoroughly about the events.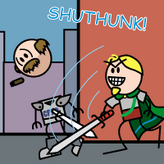 Just as he was giving orders in the aftermath of the fighting Nale leapt out of the shadows and decapitated the Chief in a single Sneak Attack. This was an effort to lead the police into the room where Nale had staged the scene for Elan's arrest, and it worked quite successfully.
Following his death, the Rookie took command of the CPPD, leading them in arresting Thog and "Nale". It is unknown exactly why, with his being a prominent member of the local police force of a city with a considerable amount of magic users and trade income, he was not revived by a Cleric (unless he was revived later or he refused to leave the afterlife).
He used to sniff pixie dust but he quit prior to the events.
He always has a cigar with him.
References
Edit
↑ Comic #347, "On the Map"